EcoFlight Safety Procedures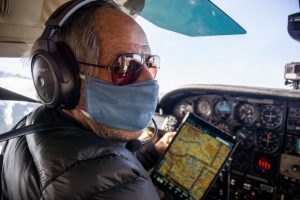 EcoFlight board and staff take safety very seriously, and maintain rigorously high standards for airplane maintenance and pilot training. We endeavor to keep the planes and pilot training to standards outlined by FAA part 135, even though we are only required to follow standards as set forth by FAA part 91.
Our pilots are highly skilled professionals, not volunteers, who fly with focus and dedication to safety, and are very thorough in flight-planning and pre-flight airplane inspections.
Both pilots are certified flight instructors, have been flying for a combined 50 years and together have over 17,000 flying hours.
On the date of an overflight EcoFlight always has someone on the ground monitoring flight operations, and we utilize the latest in-flight tracking hardware used in Mountain Rescue protocols to secure additional flight following. Each landing and take-off is recorded.
COVID-19 Procedures
During the COVID-19 pandemic, EcoFlight has predominantly conducted virtual flights, but when we do fly actual passengers, the following health and safety procedures are enforced:
Flights run at a reduced capacity to allow extra space between passengers
Airplane seats, safety belts and headsets are cleaned and sanitized after each flight
Pilots wear a special mask with a separate breathing source
Passengers are required to wear masks, practice social distancing, and stay home if they or anyone around them is experiencing symptoms
Passengers provide contact information for contact tracing